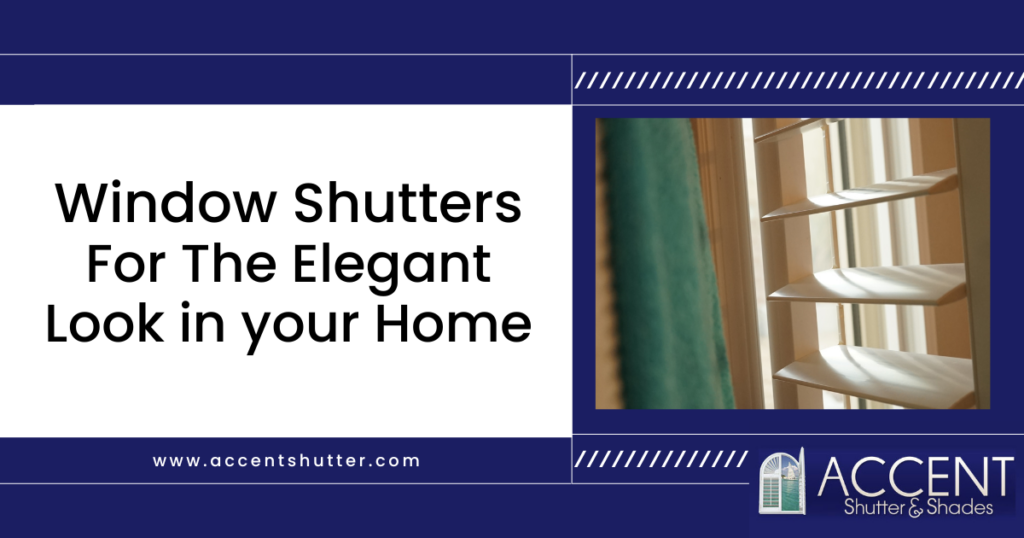 When it comes to your home's design and aesthetic, window shutters are like the icing on the cake. They're functional and decorative at the same time. Shutters feature a classic design that has been used on homes for centuries, and yet modern innovations have made them even stronger and more durable.
Accent Shutters and Shades builds custom shutters for homeowners around the country. Our shutters are created to make your home more elegant and a more comfortable place to live. Below, we've listed three reasons that our shutters are so beautiful.

Custom Made for a Perfect Fit
Shutters from Accent Shutters and Shades are custom-made to fit on your windows and doors. Because they're custom-made, they're the perfect size to fit whatever space that needs to be filled.
In addition to being the perfect fit, shutters from Accent Shutter and Shades also perfectly match the aesthetic of your home, because they're made to order. You can choose the look that fits best with your home's architecture. We offer a range of options, from plantation shutters to cedar southern shutters and more. Every shutter is made to meet your needs.

Pick the Color and Finish
It's important to get the right color and finish on your shutters, and you can do that easily when you're in control of the way they look. Custom-made shutters from Accent Shutters and Shades come in the paint color of your choice, and can easily be matched to your home's walls, siding, paint color, furniture, flooring and more. We even offer distressed shutters with your choice of:
Single or multiple paint faux finishes
Stain grade distressing
A combination of any faux finishes and stain grade distressing
You get to tell us what's right for your home.

Quality That Lasts
The most elegant shutters are those that continue to be beautiful, even as years pass. Custom shutters from Accent Shutters and Shades can be made from a variety of materials, including wood or polyvinyl, so they can withstand exposure to harsh environments and years of exposure to the elements.

Contact Accent Shutter & Shades
Want to know more about ordering elegant shutters for your home? We can help. Contact Accent Shutters and Shades to learn more about our products and options, or to place an order for your home.