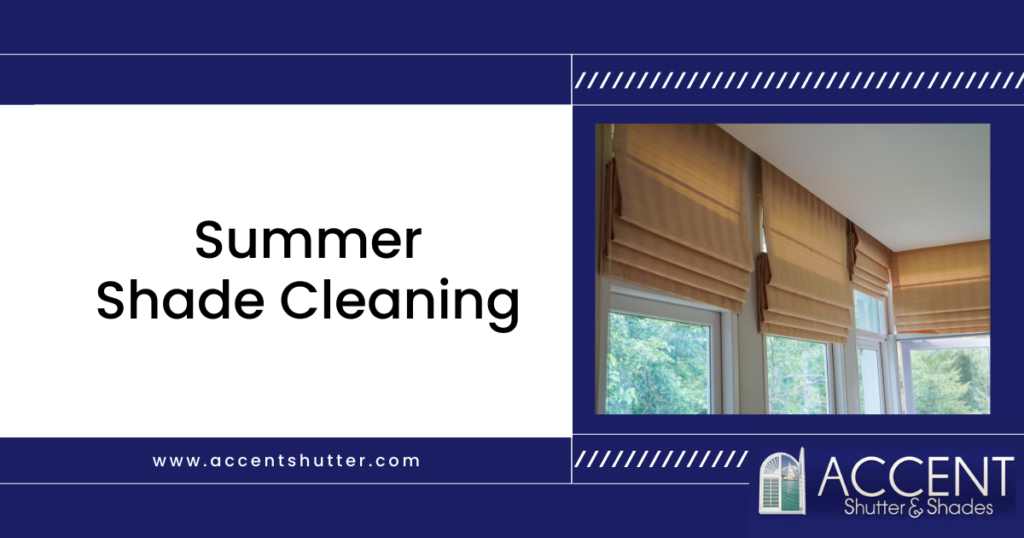 It's time to clean your home's Roman shades! Accent Shutter and Shades sells products that last for years and look great, especially when they're cleaned on a regular basis. In this article, we'll go over what you need to do to keep your shades clean and beautiful.
How to Clean Roman Shades
Roman shades have a basic design. They're made from cloth and can be raised or lowered with a cord system. In their raised position, Roman shades fold up near the top of the window, to allow light into the home. When down, the fabric hangs loosely over the window. These shades keep rooms cool and prevent glare from the sun from entering your house. Cleaning Roman shades on a regular basis can keep them looking their best for a long time to come. Some things to remember when cleaning your shades:
Follow any manufacturer instructions when cleaning Roman shades.
You may need to clean your shades more often than once per year if you have pets or children. This is especially true in high-traffic areas.
Some Roman shades are made from bamboo and should not get wet unless absolutely necessary.

Gather Your Equipment
Before you can clean your shades, you'll need to have the right equipment on hand. Here's what to gather in advance:
Lint roller
Vacuum with brush attachment
Fresh water
Clean microfiber cloth

Vacuum Your Shades
Vacuuming your shades can get rid of a lot of dust and grime, thus keeping your shades cleaner for longer. We recommend vacuuming your Roman shades more than just annually.
In most households, vacuuming your shades once per month is enough to keep your shades in good shape. Use the vacuum attachment to clean the parts of the shades that are hard to reach, including the parts of the shades near the top.

Run a Lint Roller Over Your Shades
If you have pets, then your shades may become covered in hard-to-remove pet hair. Use a lint roller over your shades to get rid of any pet hair that's attached to your shades via static electricity.

Spot Treat Shades
Spot treat stains on the fabric using a cloth dampened with fresh water. Dab at your shades. Before using soaps or laundry detergents on your shades, check with the manufacturer to be sure you won't do damage.

Need New Window Shades? Contact Accent Shutter & Shades
If it's time to replace your shades, contact the pros! Call us today!