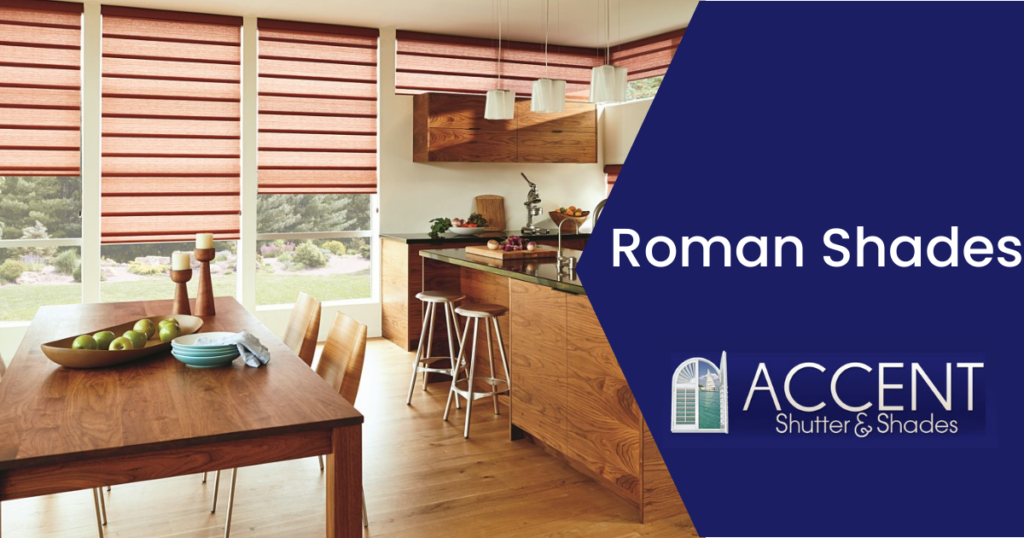 Add the Perfect Look to Your Home with Roman Shades

Roman shades are one of the most versatile and stylish of all shades that you could put in your home. With Roman shades from Accent Shutter & Shades, you can enjoy attractive shades that offer beauty and functionality, all in one product. Here's what to know about Roman shades for your home.

Available in Many Styles
Roman shades come in a range of styles, with some including borders, trims, fascias and piping, so you can enjoy Roman shades made to look just right in your home. Roman shades from Accent Shutter come in two types: Vignet Roman shades and Design Studio Roman shades. Tapes, trims and complimentary valances are popular customizations customers choose for their shades when buying products from Accent Shutter.

Versatility
Roman shades can be made formal or casual just depending on the setting, which means that some homeowners put their Roman shades in the living room while others choose the bedroom or office for their shades.
It helps that our shades come in a range of colors and can be made from many fabrics, including cotton, silk and linen. You can see for yourself on our products pages that Roman shades look beautiful just about anywhere, and can be customized to your home.

Energy Efficiency
Some Roman shades filter sunlight and allow it to enter the home, and others block the sunlight entirely. If energy efficiency is important to you, purchase shades to block the sunlight and prevent your home's interior from heating up when the temperature outside gets too warm.
Using Roman shades to control the temperature in your home can reduce the burden on your home's HVAC system and prevents your air conditioner from running harder and longer than it needs to run in order to keep your room cool. If energy efficiency is important to you, talk to your customer service representative for purchase advice when buying the Roman Shades you want.

Control Fading
Anything that blocks light coming into the home can also prevent that sunlight from fading furnishings and flooring. Keep your shades closed at times of day when the sunlight would shine into your home, and open the shades when the sunlight has moved on.

Ready to Purchase Roman Shades? Contact Accent Shutter Today
At Accent Shutter, we sell shades and shutters that can make your home beautiful. Contact us today to find out more about purchasing Roman shades.